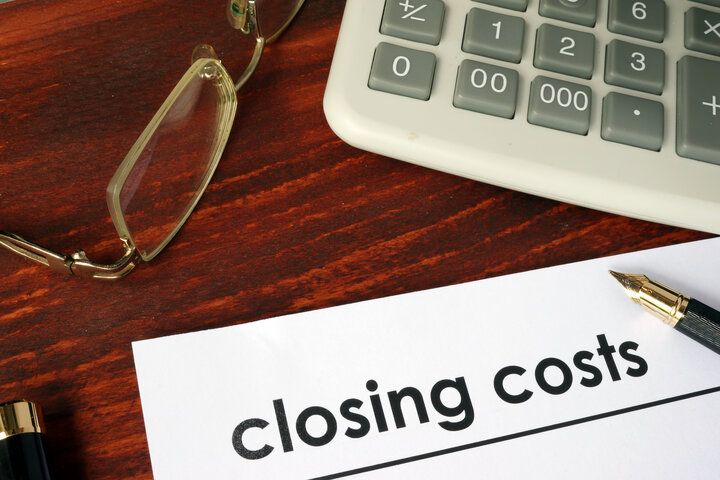 Closing costs are paid by both the buyer and the seller at closing.  The owner's title insurance policy is usually paid for by the seller and is marked on the contract. The Standard Real Estate Contract also explains who is responsible for certain closing costs which are incurred when buying and selling real property.
Normally, the Seller pays Documentary Stamps on the Deed. Many people refer to this as "Transfer Tax" to the State of Florida. This is based on the sales price of the individual property, and is equal to $.70 on every $100 of the purchase price. To figure this, simply divide the sales price by 100, then multiply by .70 to find the total "Doc Stamps". Other items the Seller may be responsible for are Tax Proration, Pay Off of Current Mortgage Loans, and homeowners association and condo association fees.
The Buyer normally pays for the recording of his own deed and the loan policy to the lender. All other charges that the Buyer is responsible for are required due to obtaining new financing. The new lender will require things such as Termite Inspections, Surveys, Appraisals, etc... These then become the Buyer's responsibility.
Surety Title Services of Florida is a full service title company. We provide services including but not limited to:
- Lowest Rates Allowed by Law
- Online County Database with Public Records
- Comparable Sales
- Mortgage Information
- Deed Restrictions
- 24 Hour Turn Around for commitments with prior policy
- Fast, and Reliable Escrow Services
- Professional Closing Agents

Recognizing the new directions and new opportunities the real estate industry affords, Surety Title has taken the lead to form innovative relationships that bring the best in service, technology and proven services together to benefit all parties involved.
Purchase Price

Insurance Rate

Purchase Price

Insurance Rate

$

55,000.00

$

316.25

$ 555,000.00

$

2,850.00

$

60,000.00

$

345.00

$ 560,000.00

$

2,875.00

$

65,000.00

$

373.75

$ 565,000.00

$

2,900.00

$

70,000.00

$

402.50

$ 570,000.00

$

2,925.00

$

75,000.00

$

431.25

$ 575,000.00

$

2,950.00

$

80,000.00

$

460.00

$ 580,000.00

$

2,975.00

$

85,000.00

$

488.75

$ 585,000.00

$

3,000.00

$

90,000.00

$

517.50

$ 590,000.00

$

3,025.00

$

95,000.00

$

546.25

$ 595,000.00

$

3,050.00

$100,000.00

$

575.00

$ 600,000.00

$

3,075.00

$105,000.00

$

600.00

$ 605,000.00

$

3,100.00

$110,000.00

$

625.00

$ 610,000.00

$

3,125.00

$115,000.00

$

650.00

$ 615,000.00

$

3,150.00

$120,000.00

$

675.00

$ 620,000.00

$

3,175.00

$125,000.00

$

700.00

$ 625,000.00

$

3,200.00

$130,000.00

$

725.00

$ 630,000.00

$

3,225.00

$135,000.00

$

750.00

$ 635,000.00

$

3,250.00

$140,000.00

$

775.00

$ 640,000.00

$

3,275.00

$145,000.00

$

800.00

$ 645,000.00

$

3,300.00

$150,000.00

$

825.00

$ 650,000.00

$

3,325.00

$155,000.00

$

850.00

$ 655,000.00

$

3,350.00

$160,000.00

$

875.00

$ 660,000.00

$

3,375.00

$165,000.00

$

900.00

$ 665,000.00

$

3,400.00

$170,000.00

$

925.00

$ 670,000.00

$

3,425.00

$175,000.00

$

950.00

$ 675,000.00

$

3,450.00

$180,000.00

$

975.00

$ 680,000.00

$

3,475.00

$185,000.00

$ 1,000.00

$ 685,000.00

$

3,500.00

$190,000.00

$ 1,025.00

$ 690,000.00

$

3,525.00

$195,000.00

$ 1,050.00

$ 695,000.00

$

3,550.00

$200,000.00

$ 1,075.00

$ 700,000.00

$

3,575.00

$205,000.00

$ 1,100.00

$ 705,000.00

$

3,600.00

$210,000.00

$ 1,125.00

$ 710,000.00

$

3,625.00

$215,000.00

$ 1,150.00

$ 715,000.00

$

3,650.00

$220,000.00

$ 1,175.00

$ 720,000.00

$

3,675.00

$225,000.00

$ 1,200.00

$ 725,000.00

$

3,700.00

$230,000.00

$ 1,225.00

$ 730,000.00

$

3,725.00

$235,000.00

$ 1,250.00

$ 735,000.00

$

3,750.00

$240,000.00

$ 1,275.00

$ 740,000.00

$

3,775.00

$245,000.00

$ 1,300.00

$ 745,000.00

$

3,800.00

$250,000.00

$ 1,325.00

$ 750,000.00

$

3,825.00

$255,000.00

$ 1,350.00

$ 755,000.00

$

3,850.00

$260,000.00

$ 1,375.00

$ 760,000.00

$

3,875.00

$265,000.00

$ 1,400.00

$ 765,000.00

$

3,900.00

$270,000.00

$ 1,425.00

$ 770,000.00

$

3,925.00

$275,000.00

$ 1,450.00

$ 775,000.00

$

3,950.00

$280,000.00

$ 1,475.00

$ 780,000.00

$

3,975.00

$285,000.00

$ 1,500.00

$ 785,000.00

$

4,000.00

$290,000.00

$ 1,525.00

$ 790,000.00

$

4,025.00

$295,000.00

$ 1,550.00

$ 795,000.00

$

4,050.00

$300,000.00

$ 1,575.00

$ 800,000.00

$

4,075.00

$ 305,000.00

$ 1,600.00

$

805,000.00

$

4,100.00

$ 310,000.00

$ 1,625.00

$

810,000.00

$

4,125.00

$ 315,000.00

$ 1,650.00

$

815,000.00

$

4,150.00

$ 320,000.00

$ 1,675.00

$

820,000.00

$

4,175.00

$ 325,000.00

$ 1,700.00

$

825,000.00

$

4,200.00

$ 330,000.00

$ 1,725.00

$

830,000.00

$

4,225.00

$ 335,000.00

$ 1,750.00

$

835,000.00

$

4,250.00

$ 340,000.00

$ 1,775.00

$

840,000.00

$

4,275.00

$ 345,000.00

$ 1,800.00

$

845,000.00

$

4,300.00

$ 350,000.00

$ 1,825.00

$

850,000.00

$

4,325.00

$ 355,000.00

$ 1,850.00

$

855,000.00

$

4,350.00

$ 360,000.00

$ 1,875.00

$

860,000.00

$

4,375.00

$ 365,000.00

$ 1,900.00

$

865,000.00

$

4,400.00

$ 370,000.00

$ 1,925.00

$

870,000.00

$

4,425.00

$ 375,000.00

$ 1,950.00

$

875,000.00

$

4,450.00

$ 380,000.00

$ 1,975.00

$

880,000.00

$

4,475.00

$ 385,000.00

$ 2,000.00

$

885,000.00

$

4,500.00

$ 390,000.00

$ 2,025.00

$

890,000.00

$

4,525.00

$ 395,000.00

$ 2,050.00

$

895,000.00

$

4,550.00

$ 400,000.00

$ 2,075.00

$

900,000.00

$

4,575.00

$ 405,000.00

$ 2,100.00

$

905,000.00

$

4,600.00

$ 410,000.00

$ 2,125.00

$

910,000.00

$

4,625.00

$ 415,000.00

$ 2,150.00

$

915,000.00

$

4,650.00

$ 420,000.00

$ 2,175.00

$

920,000.00

$

4,675.00

$ 425,000.00

$ 2,200.00

$

925,000.00

$

4,700.00

$ 430,000.00

$ 2,225.00

$

930,000.00

$

4,725.00

$ 435,000.00

$ 2,250.00

$

935,000.00

$

4,750.00

$ 440,000.00

$ 2,275.00

$

940,000.00

$

4,775.00

$ 445,000.00

$ 2,300.00

$

945,000.00

$

4,800.00

$ 450,000.00

$ 2,325.00

$

950,000.00

$

4,825.00

$ 455,000.00

$ 2,350.00

$

955,000.00

$

4,850.00

$ 460,000.00

$ 2,375.00

$

960,000.00

$

4,875.00

$ 465,000.00

$ 2,400.00

$

965,000.00

$

4,900.00

$ 470,000.00

$ 2,425.00

$

970,000.00

$

4,925.00

$ 475,000.00

$ 2,450.00

$

975,000.00

$

4,950.00

$ 480,000.00

$ 2,475.00

$

980,000.00

$

4,975.00

$ 485,000.00

$ 2,500.00

$

985,000.00

$

5,000.00

$ 490,000.00

$ 2,525.00

$

990,000.00

$

5,025.00

$ 495,000.00

$ 2,550.00

$

995,000.00

$

5,050.00

$ 500,000.00

$ 2,575.00

$ 1,000,000.00

$

5,075.00

$ 505,000.00

$ 2,600.00

$ 1,005,000.00

$

5,100.00

$ 510,000.00

$ 2,625.00

$ 1,010,000.00

$

5,125.00

$ 515,000.00

$ 2,650.00

$ 1,015,000.00

$

5,150.00

$ 520,000.00

$ 2,675.00

$ 1,020,000.00

$

5,175.00

$ 525,000.00

$ 2,700.00

$ 1,025,000.00

$

5,200.00

$ 530,000.00

$ 2,725.00

$ 1,030,000.00

$

5,225.00

$ 535,000.00

$ 2,750.00

$ 1,035,000.00

$

5,250.00

$ 540,000.00

$ 2,775.00

$ 1,040,000.00

$

5,275.00

$ 545,000.00

$ 2,800.00

$ 1,045,000.00

$

5,300.00

$ 550,000.00

$ 2,825.00

$ 1,050,000.00

$ 5,325.00